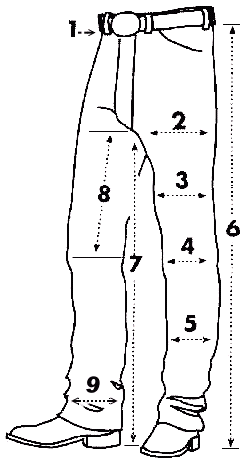 Do not take your own measurements. Use cloth or plastic sewing tape measurement for best results. Wear the type of pants/jeans and riding boots you plan to wear with the chaps. Do not add to the measurements. We add some for ease of fit, outside drop, etc. If you are concerned that you want them a little bigger please let us know.
1. Waist: Measure all the way around, just below the belt _________inches
2. Upper Thigh: Straight around the widest part _________inches
3. Mid-thigh: All the way around, between upper thigh & knee _________inches
4. Knee: Around the center of the knee _________inches
5. Calf: Measure around the largest part of the calf _________inches
6. Outseam: Just below the belt to the ground. _________inches
7. Inseam: From crotch straight to floor. _________inches
8. Thigh to knee: From crotch to center of knee _________inches
9. Ankle: Around ankle _________inches
Custom chaps are made to fit the measurements provided. If you have any questions or special instructions about ordering custom chaps, please contact us.
NAME:_____________________________________________________ PHONE:____________________________
ADDRESS:______________________________________________________________________________________
EMAIL:_________________________________________________________________________________________
DATE ORDERED:_____________________________ DATE NEEDED:_____________________________________
MATERIAL: qCowhide q Lambskin q HP/Heavyweight Ultrasuede q Medium Weight Ultrasuede qOther:
COLOR(S):______________________________________________________________________________________
CONCHOS: q 1 Concho q 2 conchos q Self Covered q Silver q Chicago Screw(s) only - add your own silver
FRONT BUCKLE: q 3 Piece Set q Plain only - add your own silver
INSTRUCTIONS: